Well, for one, it is one that will not break down. Hard to tell in the used truck market, but that is the absolute Number 1 reason a loan goes into default – The truck breaks down.
So, with that, we like to see trucks that have less than 650,000 miles.
Why 650,000?
Average driver puts 100,000 to 120,000 miles on a truck per year.

Usually a truck will last, without major breakdowns, till 800,000 miles
At 800,000 miles, we want to be out of the loan

Why do we want to be out of the loan
– The owner can now start putting more money into repairs and preventative maintenance.
– If something does go wrong – the owner can get financing for repairs because they own the truck free and clear

For every 100,000 miles up to 800,000 miles:

I can offer 12 months of term
– Example: a 400,000 miles truck will get up to 48 months to pay it off.
A brand new truck can get up to 72 months to pay off.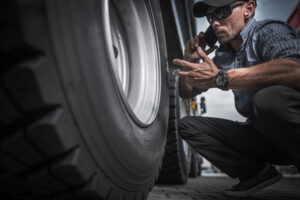 Cat, Detroit, Cummins, are all Lender Friendly Engines.
NOT Max Force International Engines.
WHY?
They break down. Max Force quit making the engine in 2016 due to its high failure rate.
In fact – International has had a class action lawsuit against them for this engine.
2007 and before to 2011 and after – All those trucks are lender Friendly. 2008 – 2010 not so much.
WHY?
Those were the first years of DEF – Diesel Enhancing Fluid. What a truck wreck that was.
It was not till 2011 that improvements were made to the point where the trucks were reliable again.
Day Cabs – are awesome. As well as wreckers, rollbacks, and any vocational trucks.
Income/cash flow producing machines – an investment that a business can rely upon.
Glider – their price tag is hard to justify.
Therefore the comparable loan value we place on them is the same as a conventional type truck.
New Trucks
Expensive – Yes

But, they get up to 8 miles per gallon or more
They have warranties

But – they must come from a Franchised Dealership only

Why – Warranties are in tack
The buyer will have a solid relationship with a certified dealership
Trucks with Rebuilt Motors
Not so much, but we will do them

They must have the most well written documentation of an Overhaul ever…
And Finally – Trucks with Deleted/Modified engine and/or exhaust system
Nope – The legal ramifications and compliance issues are to great
When in doubt – call and I will be sure to listen and have a conversation with you about your inquiries.
To get deals approved – tell us the story….
For deals under $150,000 we will need the App+ (Invoice, Application, Business Banks).
For deals over $150,000 we will need the App++ (Invoice, Application, Business Banks, and 2 years of complete business Tax Returns). Send all deals to credit@CHBef.com
See the Credit Box for more details on collateral and application requirements.
Call 307.241.7005 or email Kit at kwest@chbef.com for more details and preview a deal.
All deals are subject to approved credit (w.a.c.) and at the discretion of CHB.
Trusted By Brokers
The CHB Credit Box